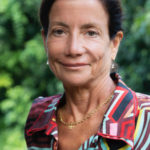 From bahiranga to antaranga: the journey inwards
Marcia will teach us her planned Workshop in Berlin for Yoga for Scoliosis again this year via Zoom. Marcia Monroe, longstanding teacher of Iyengar Yoga from New York, author of 'Yoga and Scoliosis – a journey to health and healing' (2012). The Workshop is a group practice open to all interested in nourishing and finding new possibilities to expand from the inside out through Yoga, despite any imbalances that may be there. It will be an experiential practice that requires physical health and condition. The workshop is not intended to fix scoliosis or to address personal medical conditions.
Day 1: Yoga and belts – the programme will focus on individual alignment, the extension of the limbs, stability, mobility, and proprioception for the health of the spine.
Day 2: Yoga and chair – the chair acts like one's best silent friend that provides the support and correction necessary for asymmetry and scoliosis.
The programme consists of specific asanas to prepare the practitioner for the basic stages of pranayama and suggested modifications for asymmetry and scoliosis to bring quietude to the mind and nourishment to the body. Preparatory stages follow for the antaranga (internal aspects of the practice).
Suggested 6 months experience in Iyengar Yoga is required.
Your browser does not support iframes.
Language: English (with German translation). We will send information on the required list of props.
Registration: helen@yoga-skoliose.de . www.yoga-skoliose.de, Telefon: 0172 / 9417236