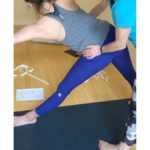 This workshop will be taught in english.
This workshop aims to help students of Yoga address the specific challenge of practising yoga with an assymetrical body, as well as using the principle of alignment (so central to Iyengar Yoga) to counter asymmetric tendencies within.
The workshop is open to all, beginners looking for new ways to address scoliosis, practitioners looking for help in their yoga practice, as well as teachers wanting to help students.
Where:  Iyengar Yoga Zentrum Berlin, Hochkirchstr. 9/2, 10829 Berlin and parallel ONLINE (Zoom)
When: Sunday 26th March 2023, 12:00-3:00 pm


Your browser does not support iframes.
Please feel free to contact me: 0172 / 941 72 36